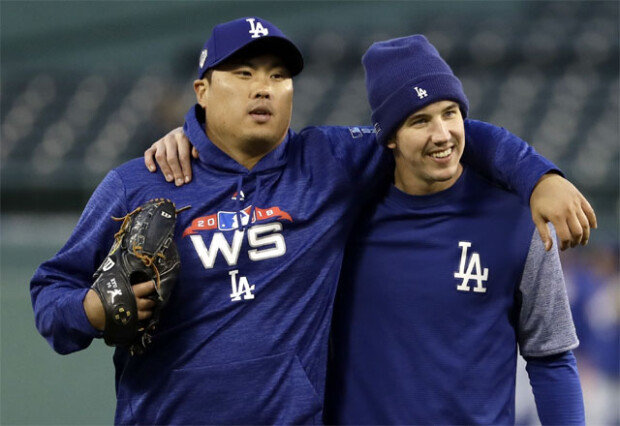 Los Angeles Dodgers' pitcher Ryu Hyun-jin will face the "Green Monster" at the Fenway Park, home to the Boston Red Sox, following Dodgers' Ace Clayton Kershaw. Dodgers are currently in a 30-year championship drought.
Clayton Kershaw will open the World Series for the Dodgers followed by Ryu Hyun-jin in Game 2 and Walker Buehler in Game 3. Red Sox's left-handed pitcher David Price will start against Ryu in the second game of the World Series.
It has not been confirmed yet but according to Dodgers' rotation in the NLCS, Rich Hill will take the mound in Game 4. After that, it is highly likely that Kershaw, Ryu, and Buehler will start in Game 5-7 in this order again.
Ryu, who has been strong at home (1.15 ERA in 9 games), will start in two games on the road in the World Series. The South Korean left-hander had a 3.58 ERA in away games this season. Ryu's weaker performance in away games continued in the postseason. While Ryu pitched seven scoreless innings in Game 1 in the NLDS, which was held at home, he allowed 13 hits and 7 points (8.59 ERA) in 7 1/3 innings in Game 2 and 6, which were held in Milwaukee.
"I will not be intimidated just because I'm playing on the road against the Red Sox. Now that we have made it this far, no one would want to lose here. We made it to the World Series last year so (Dodgers) players would know how to play. It is an honor to be in the World Series thanks to the great team and my fellow players. This is a rare opportunity so I want to do my best," said Ryu.
Bo-Mi Im bom@donga.com