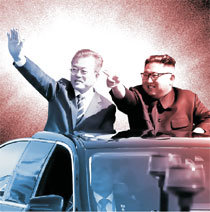 At the downtown of Pyongyang on Tuesday, an open car parade of the leaders of the two Koreas was held. South Korean President Moon Jae-in and North Korean leader Kim Jong Un, who were on a convertible car, waved their hands in front of tens of thousands of citizens who were shouting "unification of the homeland." It is the first time ever for Kim Jong Un to greet a foreign leader at the airport and to engage in a car parade together.
Kim's surprise protocol reminds of the first inter-Korean summit that was held in 2000. Kim Jong Un's father, Kim Jong Il, greeted former South Korean President Kim Dae-jung by appearing at the Pyongyang Sunan Airport without any notice. Back then the two leaders got on the same car and moved to the Baekhwawon guest house surrounded by the applauses and welcome of Pyongyang citizens. Kim Jong Il also greeted Russian President Vladimir Putin and former Chinese President Hu Jintao at the airport but the only time he got on the same vehicle with a foreign leader was when Kim Dae-jung visited the North. This scene was broadcasted all over the world and Kim Jong Il expressed his presence by making a joke that he "was freed from seclusion thanks to the visit by President Kim."
Also in 2000, North Korea suggested the open car parade but it was canceled due to the opposition by the security team of South Korea. Guarding the president at the "enemy land" was too much of a burden as it was the first time to visit Pyongyang by a South Korean president. At that time, the security agents were educated to not even think about returning home if the president were ever to get into a dangerous situation. President Roh Moo-hyun, who visited North Korea in 2007 when the tensions between the two countries were somewhat alleviated, pushed forward the open car parade. Former President Roh's open car parade at Pyongyang, however, was accompanied by standing commissioner Kim Yong Nam of the North Korean Supreme People's Assembly. Kim Yong Nam was also seen next to former Chinese President Jian Zemin's parade during his visit to the North in 2001.
The North Korean way of respectful treatment by exaggerating its existence with unconventional direction has not changed at all. Kim Jong Un, however, appears to be a step more sophisticated and upgraded than his father, who was known to be a "recluse." On Tuesday, Kim Jong Un appeared at the airport with his wife Ri Sol Ju and greeted President Moon in a Western style by making their cheeks meet for three times. North Korea, exceptionally broadcasted this scene live to the world. They wanted to show the open-minded feature of the North Korean leader, who studied in Switzerland. What the world really desires to see, however, is not a surprise event by North Korea but substantial actions for denuclearization.