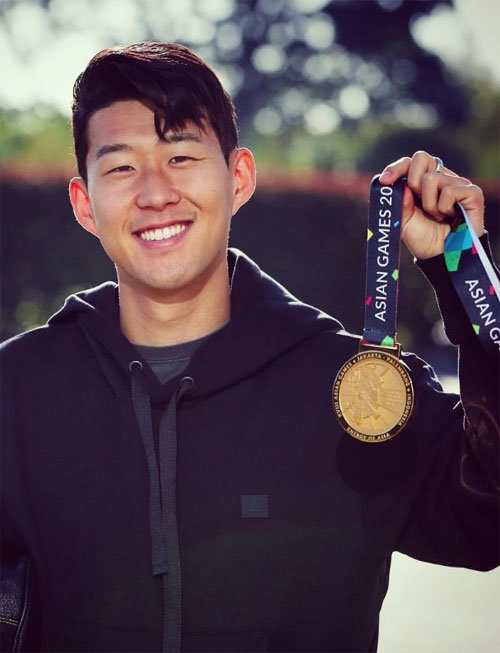 Son Heung-min (26) received a warm welcome from his teammates, as he returned to his English Premier League team Tottenham Hotspur FC's training camp after winning the gold medal at the 2018 Jakarta-Palembang Asian Games. In a video clip entitled "Welcome Home" on his team's Facebook page, Erik Lamela and Lucas Moura were seen giving hug to Son and congratulating him. Son received a round of applause as he entered the cafeteria.
"Son is facing a turning point in his soccer career by winning the gold medal at the Asian Games. The fact he has been exempted from (Korea's compulsory) military service means that our club has acquired a huge asset," Tottenham manager Mauricio Pochettino said.
Pochettino struggled in creating tactical formation for the team due to the temporary absence of Son, who is its flagship player. "Our team and I allowed Son Heung-min to participate in the Asian Games by considering his personal situation as priority. Other teams would not allow a player to take part in such games during the season," Pochettino said. "Son has given our team a gift, but he has not prepared a gift for me. As soon as I met him I asked him 'where is my gift.' I wish to receive a watch or Korean food. I hope that people will also congratulate me on my decision to send Son to the Asian Games."
Son will play a home match against Liverpool FC, which will take place in London on Saturday. Son is apparently exhausted physically due to his participation in the Russian World Cup and the Asian Games, but he should demonstrate outstanding performance in every game he plays in order to secure his position as the team's key starting member. "My season has now started. Since I have matured significantly now, I will redouble efforts," Son said.
Yun-Cheol Jeong trigger@donga.com