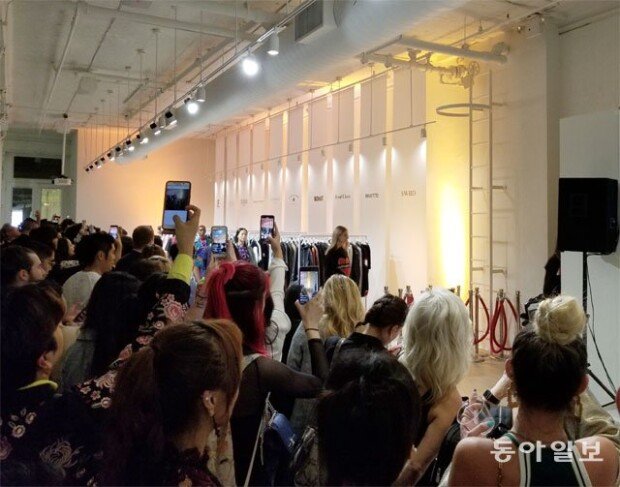 At around 7 p.m. Saturday (local time), on Greene Street in the Soho district of Manhattan in New York City, some 300 fashion designers, models, and buyers flocked to the space across the store of Hermes, a French luxury brand. With those braving the rain in attendance, a collaborative project showroom "The Selects" opened where Korean fashion (K-fashion) brands can exhibit their works.
Saturday's opening ceremony started with the music and video of K-pop girl band Red Velvet, one of the collaborative partners of The Selects. As soon as the video ended, curtains in the corner of the showroom were drawn back. Models, who had been standing still like mannequins, began to walk forward all at once in the clothes of Korean designers, making the audience exclaim at the scene.
On one side of the showroom, 10 K-fashion brands were displaying their clothes, namely LIE, KYE, The Centaur, Wnderkammer, Heohwan Simulation, Hidden Forest Market, Nohant, Beyond Closet, Bmuet(te), and SWBD. "It is not easy for a foreign designer to meet with buyers in New York," said Lee Chung-chung, designer of LIE. "Having a dedicated showroom in Soho of New York City provides a great opportunity for Korean designers who hope to promote their brands in global markets."
The Selects drew the attention of New York's fashion industry by opening during this year's New York Fashion Week (from Sept. 6 to Sept. 14), one of the world's top four fashion weeks along with those of London, Paris, and Milan. "U.S. consumers are thirsty for new, creative fashion brands," said Mandie Erickson, partner at Showroom Seven, at the opening ceremony. "As Korean designers are very creative, innovative, and practical, they'll be able to succeed."
Korean fashion designers also showed off their presence. At Concept Korea, the government-sponsored fashion show held during New York Fashion Week, Korea's street fashion brand "IISE" made its debut in the city. Kim In-tae (31) and his brother Kim In-gyu (30), both born and raised in New Jersey, visited Korea in 2013 and started the brand in Seoul after being inspired by the country's traditional architecture and culture. With their presentation in New York, these Korean American designers are now advancing to the U.S. market where they grew up.
Another Korean fashion designer Yang Yuna, whose collection was launched at duty free store of John F. Kennedy Airport in New York, also held her own show to much acclaim. Also, K-fashion brand KUHO held a presentation in Manhattan.
Yong Park parky@donga.com