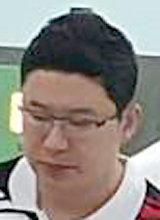 At the 2018 Palembang Asian Games in Jakarta, Indonesia Tuesday, South Korean veteran shooter Jin Jong-oh showed great performance in test shooting by making his gunshots centered just round the bull's eye. He made his way up to the finals with the 2nd highest scores in the men's 10-meter air pistol event. However, the last shot in test shooting turned out to be the beginning of his misfortune. His scores did not show up in the monitor (electronic target) in front of the shooter.
When the event started, he seemed to be somewhat different. With his hand on the chest, the 39-year-old took a deep breath for a shot, but he soon put the pistol down. No sooner than did other athletes take their second shot, Jin did his first one with a frown in the face. With his unstable performance during the final, he ended shooting, ranking 5th among the eight final shooters, with a score of 178.4.
The best-ever South Korean shooter has unexceptionally won gold medals in the men's air pistol events. Particularly, he became the first shooter to claim the 50-meter individual gold medal in three consecutive Olympic Games. Jin has so far attained three gold medals in the men's team event in the Asian Games. As the 50-meter event, where he had shown the best performance, was excluded in the Palembang Asian Games, he participated in the 10-meter event only. He was eagerly dedicated to break the jinx that he had no gold at 10-meter individual events of the Asian Games, declaring that Palembang would give the chance to him.
Shocked with the results, Jin walked out of the press room, not having any interview with the press. An employee at KT, where Jin belongs, said that Jin was deeply disappointed with his poor performance during the game, which affected mind control, adding that he saw Jin's tear-filled eyes.
Yun-Cheol Jeong trigger@donga.com