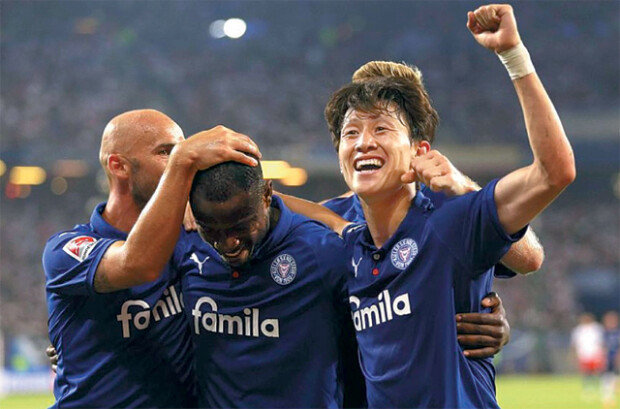 Lee Jae-sung of Holstein Kiel made a strong impression in the world of German soccer by recording two assists that led to a great victory of his team on his debut match on Saturday. It was only a week after he moved to Holstein Kiel, the second league team in Germany (Bundesliga 2), in order to advance into European arena on July 28. German press lavished praise on him for adapting to the team quickly and showing great performance.
On the day of Bundesliga 2 opening, the 26-year-old Korean played in the field for 81 minutes in a visiting match against Hamburger SV at the Volksparkstadion in Hamburger. He showed off his accurate passes and ability to breakthrough as an attacking midfielder with 4-2-3-1 tactics. He led the 3-0 victory of his team by passing the ball assisting the first and the last goal 11 and 33 minutes in the second half.
"Lee Jae-sung, who had played for Team Korea during the 2018 Russia World Cup, showed a great performance," said German tabloid Bild. "Holstein Kiel paid only 900,000 euros to Jeonbuk Hyundai to recruit him." German soccer newspaper Kicker also praised him by reporting, "The newly joined Lee recorded two assists and made a grand debut."
Holstein Kiel entered the playoff by finishing the second league in the third rank but failed to elevate into the first league in the last season. It is assessed to have successfully reinforced the team's strength by recruiting Lee, the best player in the K League 1 last year, right before the start of the season. Lee reportedly decided to join the team given the team's potential to advance into the first league.
Jae-Hyeng Kim monami@donga.com