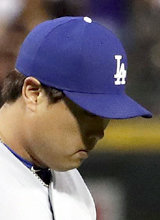 Los Angeles Dodgers' pitcher Ryu Hyun-jin, who has been expected to return after recovering from an injury next month, is currently facing the possibility of ending up at the bullpen, following a trade rumor.
According to local media including ESPN, the starting line-up, which is soon to be saturated with a maximum of eight players, will soon be settled and two players are expected to have position change to the bull pen. U.S. sports media "Isports Web" forecasted Ryu as one of the candidates that are likely to enter the bull pen.
Ryu, who signed a 6-year contract upon entering the Major League in 2013, is qualified as a free agent after this season. The Korean player is more desperate than before to make the outstanding pitching he showed at the beginning of the season so as to put an end to various rumors surrounding him and to secure a stable future.
Bae-Jung Kim wanted@donga.com