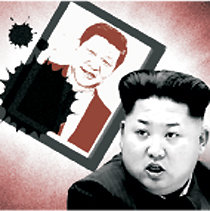 On July 4, a Chinese woman named Dong Yaoqiong (age 29) poured ink over a Xi Jinping poster in Shanghai. She posted the event on Twitter and wrote "I am against the tyrannical rule of Xi Jinping." Dong is known to be detained. As similar events imitating the ink pouring began to upload online, the Chinese government removed the portraits of the Communist leader in public places in Beijing, Dongguan of Guangdong and Changsa of Hunan.
The removal of Xi Jinping's name on the first page of the People's Daily on July 9 and 15, after China's trade war with the United States broke out, is also considered unusual. It is viewed as a careful gesture within the party to tone down the propaganda of praising Xi, which has strengthened since the leader's rule in 2012. The legitimacy of the Communist Party rule lies not in elections, but annual economic growth of around 10 percent. President Xi was confident of achieving economic growth when he announced China's ambitions to become a great socialist economy and amended the constitution to lay foundation for long-term rule. But the trade war with the U.S. weighing down China's growth has also dented President Xi's leadership.
The theory of modernization, intensively debated in the 1990s, viewed economic growth as prerequisite for democratization. Economic growth leads to a shift of outdated social structure and values. In other words, individuals began to recognize and demand their rights after their economic needs are fulfilled, as evidenced by countries such as Korea and Taiwan. Such social demands are converged and later promoted for democracy, but if such demands are denied, the society becomes anxious. The seed for revolution is planted. It is curious of what the recent ink pouring event will signal to Xi Jinping's rule, who is attempting to run counter to history since the Reform and Opening Policy in 1978.