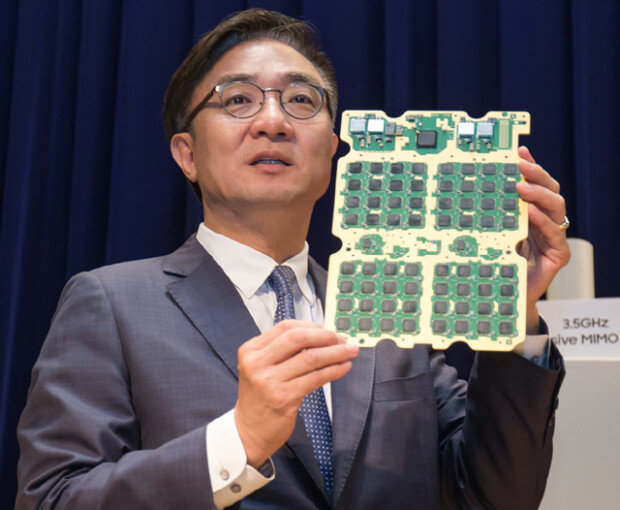 Samsung Electronics held "5G City Fair" to showcase key 3.5GHz equipment for 5G main bandwidth on Friday. Holding such an event while negotiating equipment supply with Korean mobile carriers could expose Samsung's business strategies to its rivals. 5G frequency bandwidth is categorized into low frequency 3.5GHz and superhigh frequency 28GHz, and Huawei is assessed to have its strength in 3.5GHz bandwidth and Samsung in 28GHz.
Samsung sees 5G commercialization as an opportunity to compete against Huawei, the global top communications equipment provider. Samsung's LTE (4G) equipment share in Korea (40 percent range) exceeds that of Huawei (10 percent range), but Huawei is leading in the global share at 28 percent whereas Samsung is at 3 percent.
Samsung has an ambition to become the first mover in 5G by focusing on its strength of having a wide product line, including communications equipment, chipsets and mobile devices, as well as its technological capacity in 28GHz and experiences in providing 3.5GHz equipment.
Samsung signed a contract with U.S. top mobile carrier Verizon to provide 5G Fixed Wireless Access of 28GHz bandwidth to provide services from the third quarter of this year. It also signed a contract with Sprint to provide 5G equipment of 2.5GHz bandwidth, which will be commercialized next year.
"The core frequency 3.5GHz bandwidth is a battlefield that we cannot give up as Korea will be the first to establish the 5G network all over the country," said Kim Young-ki, CEO of Samsung's network division. "We will set our name in the global top three rank by increasing the global share of 5G equipment to 20 percent by 2020 with thousands of R&D researchers and factories in Korea."
Dong-Jin Shin shine@donga.com