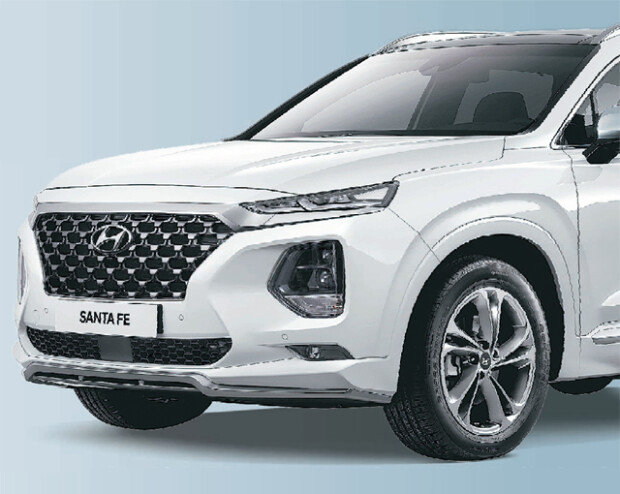 The Santa Fe, Hyundai Motor's mid-size SUV, has set a new record by posting 50,000 vehicles sold in the shortest period of time in the history of the Korean SUV market. In a bid to keep the momentum going, Hyundai Motor has set a new annual sales target of 100,000 vehicles in Korea for the first time among the domestically assembled SUV models, and aims to continue its strides in the U.S. SUV market as well.
According to Hyundai Motor, the cumulative sale of the all new Santa Fe exceeded the 50,000 mark for this year as of June 26. It was a new record in breaking the 50,000-unit milestone set in the shortest period of time. The previous record of breaking the milestone was set by the Santa Fe, which was achieved seven months after its launch in 2014.
The new milestone includes shipments of the SUV's previous model (about 7,000) before the launch of the latest model on February 21, but the older model only accounts for a small portion of the overall sales. The number of orders for the new Santa Fe already stood at 53,000 as of late May.
Currently in the domestic SUV market, the portion of compact SUVs is declining while that of mid-size SUVs is on the rise. Of nearly 200,000 SUVs sold by local automakers through May, 90,000 were mid-size ones. It means almost one in two SUVs sold in the Korean market is mid-size SUVs. Analysts say that the Santa Fe has been successful due to the strategy of providing various power train options and diverse high-tech and convenient options to keep abreast of the trend of the growing mid-size SUV market.
Such analysis is also reflected in a survey of propensity of consumers that have purchased the Santa Fe. According to Hyundai Motor, its survey of Santa Fe buyers by age suggested equal distribution of purchase by different age groups, with those in their 30s accounting for 23.2 percent, those in their 40s and those in their 50s taking up 26.7 percent and 27.4 percent, respectively.
Hyundai Motor expects the new Santa Fe will help the automaker regain market share in the U.S. SUV market. The new model can make its U.S. debut as early as in July. "Our subcompact SUV 'Kona' currently continues to enjoy popularity in United States, while an upgraded version of our compact SUV Tucson with improved performance will be launched soon. We will also launch a large SUV around year's end," a Hyundai Motor source said. "The addition of the new Santa Fe will strengthen our SUV lineup in the U.S. market, which will enable us to increase sales."
bjk@donga.com