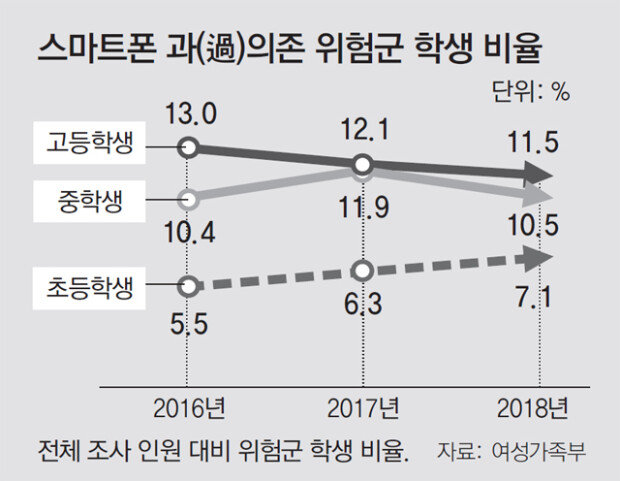 More than 15 percent of South Korea's elementary and secondary school students are addicted to the Internet or smartphones, a government survey showed Friday. The increase in addiction was higher among girls and elementary students compared to last year. To counter the problem, the government said that it would hold prevention education sessions once a year for all daycare centers and kindergartens, and at least twice a year for elementary, middle and high schools.
According to the survey conducted by the Ministry of Gender Equality and Family of the group of 1,291,545 students, which consists of fourth graders at elementary schools, first graders at middle schools and first graders at high schools, 196,337 youngsters, or 15. 2 percent, are found excessively dependent on either the Internet or smartphones. The results indicate that one out of seven are having trouble in their studies or daily life due to the overuse of the Internet or smartphones.
What is also noticeable is that elementary school students are increasingly in danger of suffering from digital addiction as they tend to start using the Internet or smartphones at a younger age.
Early this year, the government made an amendment to the Framework Act on National Informatization to make it mandatory to hold education sessions for elementary and secondary school students on the prevention of the Internet and smartphone addiction
Ho-Kyeong Kim kimhk@donga.com · Mee-Jee Lee image@donga.com