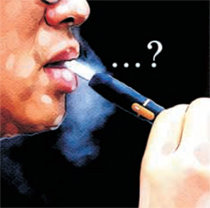 One of the greatest goals of tobacco products manufacturers is to produce cigarettes that are less harmful to the human body. Since the 2000s, multinational tobacco makers have developed new types of tobacco products such as snuff and tobacco candies. The use of such expressions as "light," "ultra-light" or "mild" is a part of their marketing strategies aimed at spreading a perception that those products are less harmful.
Electronic cigarettes are a newest type that is based on electronic devices, including liquid vaporizers and heat-not-burn tobacco products. They have become popular among smokers, as these products do not involve burning tobacco leaves and thus are believed to contain less tar and odor. Some smokers considered them helpful in quitting smoking. Since heat-not-burn cigarettes first hit the local market in May last year, some 97 million packs have been sold, accounting for 10 percent of the domestic tobacco market. Some experts project their market share will rise to 20 percent next year and reach 30 percent in 2020.
The Ministry of Food and Drug Safety on Thursday announced the results of its investigation into three heat-not-burn tobacco products sold in the domestic market -- IQOS by Philip Morris Korea Inc., British American Tobacco's Glo and KT&G Corp.'s lil. The ministry investigated nicotine, tar and other harmful chemicals contained in the products. As a result, it found that on average, IQOS contained 0.5 milligram of nicotine, while Glo and lil had 0.1 and 0.3 milligram, similar amounts detected in ordinary cigarettes (0.01 to 0.7 milligram). In terms of tar, however, IQOS had 9.3 milligrams, Glo 4.8 milligrams, and lil 9.1 milligrams, exceeding the amounts found in conventional products (0.1 to 8.0 milligrams). The health authorities also detected five Group 1 carcinogens, including benzene and formaldehyde. The ministry said the amounts are similar to those found in Germany, China and Japan.
In 2008, the World Health Organization announced that electronics cigarettes were no safer than conventional ones. The U.S. Food and Drug Administration also says that e-cigarettes are not effective in quitting smoking. From December, the Korean Ministry of Gender Equality and Family plans to add warning photographs to the packages of heat-not-burn cigarettes as well. After all, electronics cigarettes are nothing but harmful ones.