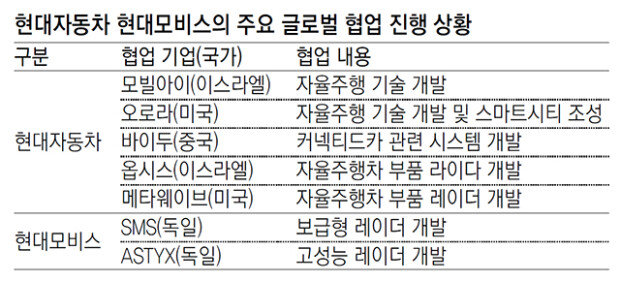 Hyundai Motor Company has announced that it will invest in the U.S. startup Metawave that specializes in developing high-performance automotive radars. This is part of the South Korean auto giant's efforts to advance autonomous vehicle (AV) technology by collaborating with global companies. Hyundai Mobis, which leads the development of AV technology jointly with Hyundai Motor, is expanding collaboration with outside companies and creating synergistic effect with Hyundai Motor Company.
Metawave, a Silicon Valley startup founded in 2017, recently raised 10 million U.S. dollars (approx. 10.8 billion won) in funding. Japanese auto parts maker Denso and Toyota AI Ventures as well as Hyundai Motor joined the funding. The Silicon Valley-based startup is currently under the development of high-speed and high-resolution radar.
"Our early participation in the funding enabled us to actively cooperate with Metawave. Using this advantage, we will internalize automotive sensor technology, the core of AV technology," a Hyundai Motor official said.
The future of Hyundai Motor Group depends on acquiring AV technology. One of the key targets of Hyundai Motor is to develop autonomous vehicles while that of Hyundai Mobis is to independently develop core AV technologies. In order to do so, Hyundai Mobis partnered with two German companies for radar development. Key challenges for Hyundai Mobis include mass producing sensor technologies, such as radar, LiDAR, camera, and ultrasonic sensors and acquiring connectivity and infotainment technologies whose demand is increasingly on the rise.
"It is a positive change for Hyundai Motor and Hyundai Mobis to engage in multilateral cooperation and create synergistic effect to catch up with the leaders in the race for autonomous vehicles," said Kim Pil-soo, professor of Automobile Engineering at Daerim University.
hanwshin@donga.com · bjk@donga.com