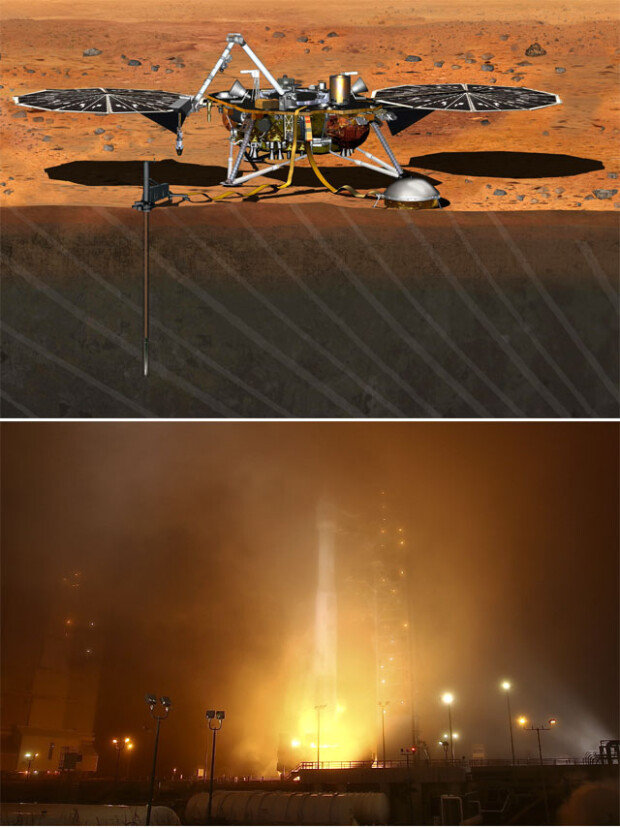 The world's first unmanned spacecraft that will investigate the interior of the Mars, dubbed "the Second Earth" by humans has been launched in the United States.
NASA successfully launched "InSight," a new Mars exploration vehicle at Vandenberg Air Force Base in California at 4:05 a.m. on Saturday. It is the first time in seven years that NASA has launched a Mars lander after the "Curio City," which was launched in 2011 and has been in operation since 2012.
InSight is short for Interior Exploration (of Mars) using Seismic Investigations, Geodesy and Heat Transport. The main goal of the new Mars lander is to investigate the interior structure of the Red Planet by measuring earthquakes and geothermal temperatures. The mission of the new spaceship is different from conventional Mars exploration vehicles that focused on studying the existence of living organisms by investigating signs of water and components of earth.
To this end, NASA designed InSight as a stationary exploration vehicle that operates while stationed at a specific location, rather than the existing exploration vehicles like the robot (Rover). The vehicle is equipped with underground exploration instrument from multi-country research teams including a seismometer from the French Space Agency (CNES) and a geothermal temperature gauge from the German Aerospace Center (DLR) of Germany. Using such instrument, scientists will uncover the interior structure of Mars and the process of its creation by exploring whether earthquakes have happened on Mars, and secure data that will measure the temperatures of the core 1,500-kilometer deep, which are transmitted to the surface five meters below Mars.
InSight will land on the Mars surface by using a parachute and retro rocket on November 27 morning (Korea time) after completing a six-month flight. The lander will conduct mission to explore the Mars surface for about two years (1 year and 40 days of Mars time) of Earth time.
Decision will be made anew whether the InSight's mission will have been completed or be extended around November 24, 2020, which is the deadline for all activities planned. Chances are high that the duration of operation will increase because unmanned exploration vehicles often conduct mission longer than planned. The MER-B, or "Opportunity" that was launched by the United States in 2003, was planned to continue activities for 92 days (Earth time), but had its mission extended several times and is still conducting operation on 5,214th day (14 years and three months) on Sunday by extending the duration of mission. "The Curiosity." which was scheduled to operate for 687 days, continues its mission on 2,098th day.
ashilla@donga.com