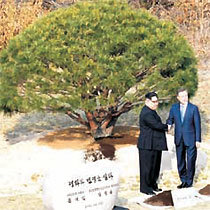 "We will plant fast growing trees nationwide, such as pine trees, oak trees and acacia trees to produce results of our tree-planting campaign fast." On April 5, 1953, the Ministry of Agriculture and Forestry planted 25 million seedlings nationwide in celebration of Arbor Day. There were sounds of gunfire everywhere but government officials and students came forward to plant trees to mark Arbor Day, which was designated as official holiday in 1948. The pine tree planted by the leaders of two Koreas at Panmunjom Thursday may have been one of the seedlings planted 65 years ago on April 5, 1948.
The pine tree planted Thursday is the same age as President Moon Jae-in. President Moon and North Korean leader Kim Jong Un shoveled soil that had been collected from Mt. Halla in Jeju Island and Mt. Baekdu in the North over the root of the tree. The tree-planting event may have been special for Kim Jong Un as well because his mother, Ko Yong Hee, was also born in 1953 and her family once lived in Jeju. She was known to be born in Japan but there are also rumors that she was born in northern Jeju. Kim Jong Un is said to have a deep sorrow for his mother, who died in 2004 after leading a hidden life even though she gave birth to the children of Kim Jong Il.
This is the first time that the South and the North jointly planted a tree. During the October 4 summit in 2007, the two Koreas agreed to plant a pine tree together at the Joongang Botanical Garden in Pyongyang, but then North Korean leader Kim Jong Il did not show up, leaving then South Korean President Roh Moo-hyun to plant the pine tree with the North's ceremonial head of state and bring back a 250-kilogram monument with the names of the two leaders written on it. On the eve of the South Korean presidential election that year, then National Intelligence Service chief Kim Man-bok went to Pyongyang and put a small monument with President Roh's name on it beside the planted pine tree.
The very place the two leaders planted pine tree Friday is where the Chinese and North Korean prisoners of war (POW) passed through after they were released and headed back to the North on April 27, 1953. Discussions for the Korean War armistice were resumed on April 26, 1953 at Panmunjom, where the exchange of POW was discussed. As a result, 490 POWs were sent back to the North the next day. Three months later on July 27, 1953, the Korean Armistice Agreement was signed at Panmunjom. The tensions surrounding Panmunjom reached its climax by the 1976 axe murder incident. Friday's tree-planting event must have reminded President Moon of the time he served as a member of the airborne troop, which carried out the work of cutting down a poplar tree in the JSA in 1976.
Kee-Hong Lee sechepa@donga.com