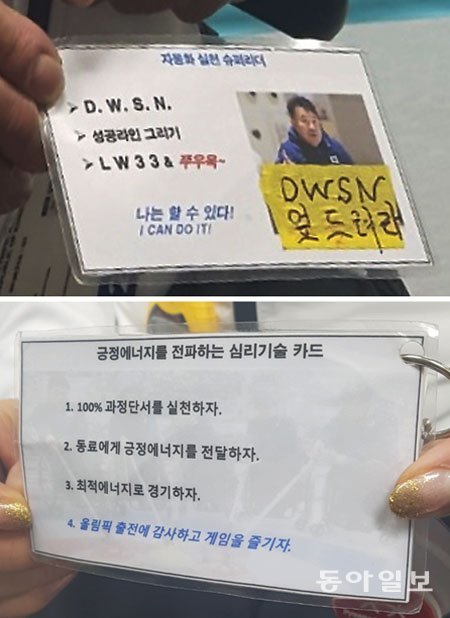 "I tried my hardest to make the draw shot and the result turned out great," said Jeong Seung-won, the third player of the Korean wheelchair curling team. He drew a "winning shot" in the match against Britain. In the eighth end, after the Korean team leveled the score in the seventh end, the 60-year-old player made a perfect shot, putting the stone in the center of the house and bringing victory to his team. With Thursday's victory, the Korean team has been advanced to the semifinals.
When asked how he overcame the pressure, he said the "psychotherapy car" helped a lot. Written on the cards, which were made by mental coach Jang Chang-yong, are phrases that help players focus on the game.
The front side of Jeong's card wrote "D.W.S.N" and "L W 3 3 & continue." "D.W.S.N" stands for down, weight, short and not, which means to lower his posture to make stable shots and control strength to put the stone in the center of the house. "L W 33 & continue means to follow the skip's directions to maintain the stone's path and control strength. And then to count to three before throwing the stone because I am a bit hot-tempered," said Jeong smiling.
Before the match starts and after the fourth ends, players read the cards to stay focused and control themselves. On the back of the card of the lead Bang Min-ja, 56, who usually throws the first two stones of the end, are phrases meant to help her teammates. "My card says to deliver positive energy to my fellow players," Bang said.
Yun-Cheol Jeong trigger@donga.com