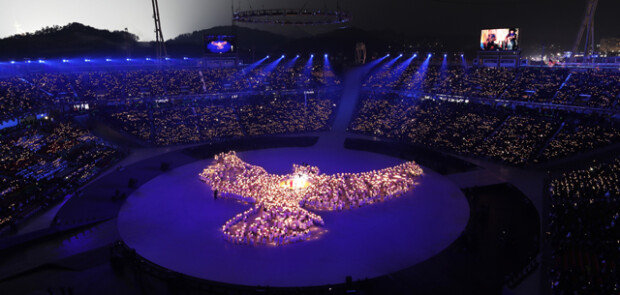 A giant LED dove was featured at the stadium of the 2018 Winter Olympic closing ceremony in Pyeongchang on Feb. 9. As many as 360 LED lights formed feathers, another 1,000 lights joined the feathers and created a giant dove. The dove of peace gave an impression of Korea as an information and communications technology (ICT) powerhouse to 2.5 billion people across the world.
The Pyeongchang Olympic Organizing Committee made a consistent effort in introducing Korea's ICT into the three major elements of the PyeongChang Olympic opening ceremony - the Olympic torch, the Olympic flag and the dove of peace.
More than 1,400 people held LED lights to create the dove of peace, which was controlled by the fifth-generation (5G) wireless network, which was enough to impress a global audience.
The dove stunt was not easily initiated from the beginning. The organizing committee tried to manually operate the LED lights before figuring out that it would not be easy to turn on and turn off the lights all at once. Finally, they learned the revolutionary show needs a control system using 5th-generation network, a mobile connection whose data processing speeds 100 times faster than fourth-generation LTE.
Korea's largest wireless provider KT Corporation constructed both 5G network and broadcasting network in just four months since September last year, while creating a wireless-controlled system for the LED dove stunt.
yes@donga.com