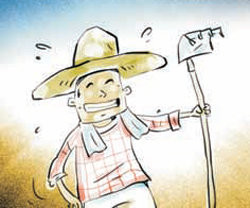 The convergent complex of primary, secondary and tertiary industries, such as agriculture and fisheries, manufacturing and service industries all merged into one, is called "senary industry." The Moku Moku Farm in Mie Prefecture, Japan, is considered as a leading role model in this sector. The entire process takes place in a single location, by growing crops, processing the crops to make products and providing cultural experience tour program.
As high added value was created at Moku Moku Farm, young manpower has crowded in, and local economy has become energetic. Senary industrialization is making an opportunity for agriculture, which was an industry in decline, and is also attracting attention as an industry to grow in the future. Japan is not the only country in which the younger generation, who never even considered working in a farm, has started recognizing the values of agriculture in a new point of view. In Korea, the number of households moved to farms from cities has increased by 20 percent for the past two years, from 1,100 households in 2014 to 1,340 households in 2016.
It seems that the young Koreans have a powerful "hunch" not only in fashion trends, but also in the trends for industrial changes. According to the announcement by the Ministry of Agriculture, Food and Rural Affairs on Sunday, the competition rate for "Supporting Young Founding Farmers to Settle Down in Farming," which is launching this year, is calculated to be 3 to 1. This project provides up to 1 million won in maximum up to three years. The number of people to select is 1,200, but 3,326 people have applied. It definitely is a positive sign as many young people dream of becoming venture farmers. Among the applicants for this supporting project, which aims to create jobs at farm for young people, the soon-to-be farm owners have made up 44.6 percent of the total, even higher in numbers than those who have been farming for one to three years.
New trends, such as smart farms utilizing big data, drones with artificial intelligence, and automatic driverless tractors, have been recently introduced into the agricultural industry. This is why the passion of younger generations, who are proficient in business and information and communication technology, in order to change the situation of the farms in the 21st Century. Jim Rogers, one of the three greatest investors of the world, nominated farmer as a promising job for the Age of the Fourth Industrial Revolution at an interview last year. He analyzed that the importance of agriculture, which produces safe food, cannot help but grow amid food shortage and climate change. And he also gave an advice: "If you don't like your life right now, be a farmer." We all send cheers to aspiring farm CEOs.
Go-miseok mskoh119@donga.com