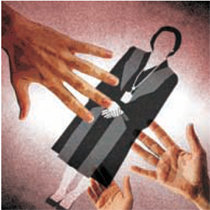 Seo Ji-hyeon, a prosecutor at Tongyeong Branch of Changwon Prosecutors' Office, revealed that she was sexually molested by An Tae-geun, a former director of Prosecution Bureau at the Ministry of Justice. This is the Korean version of the "#MeToo (I was a victim, too)" movement, which was a series of revelation that they have been sexually molested or raped in the United States, in October last year. Rep. Lee Jae-jeong of the Democratic Party of Korea also posted #MeToo on her Facebook page, saying, "I could not do this when I was a lawyer, and I'm hesitant even as a lawmaker." It seems that the #MeToo movement will spread in Korea as well, as a declaration of support emerged in the political community as well.
Seo revealed the sexual molestation incident that occurred in October 2010 in the online post she posted on the internal network of the prosecution titled "I Wish." It was about An, who was in his office at the time, put his arm around her waist and touched her buttocks. She said it was wrapped up in the form of having a discussion about receiving an apology through the leadership of the branch she was affiliated to, but she did not receive any apologies or calls after that, and claimed she got a sudden performance audit and was transferred to a new position, which was not ordinary.
Seo called herself "the woman" and wrote about her sufferings for the past eight years. She revealed that she suffered a miscarriage because of the trauma of the sexual molestation. She said that she tried hard to forget about it, but the behavior, breath and the smell of alcohol were imprinted even more clearly. She cried, saying, "It was all my fault. Everything was my fault."
Seo's revelation makes people realize how serious the mental pain of sexual assault victims is. If appropriate follow-up actions do not take place, trauma remains in the unconsciousness and harasses victims continuously. There are many cases in which victims show not only panic disorder and depressive disorder, but also self-destructive behavior, such as suicidal impulse. Experts give an advice that it is important for people around victims to cheer them up by saying "it is not your fault." It has the same significance with the fact that the Time magazine selected "The Silence Breakers," the term that stands for those who participated in the #MeToo movement, as Person of the Year at the end of last year. The trauma of a sexual molestation is not a subject of healing for an individual. It is a subject of overcoming for all.
Jin-Kyun Kil leon@donga.com