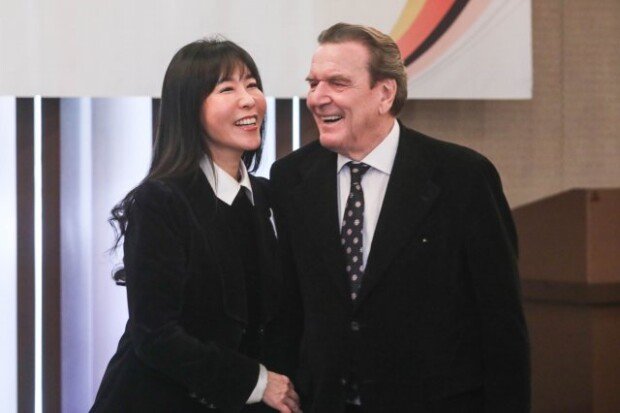 Former German Chancellor Gerhard Schroeder and his Korean interpreter Kim So-yeon held a press conference Thursday at Korea Press Center and told reporters that they decided to spend half of their remaining lives in Korea. The couple visited South Korea to attend the opening ceremony of the Winter Olympics in Pyeongchang at the request of the International Olympic Committee (IOC).
"I am very much interested in culture, art and painting, so I want to take a look around the historic sites in local areas and learn more about the lives of Korean people as well as the country's rich history and culture," said the former German chancellor. "I don't speak Korean yet, but I am eager to learn."
The formal meeting between the bride's and groom's families has been finished, and they are planning to start their new life in Seoul after having a wedding ceremony in this coming fall. "I think we will be spending half the time in Seoul and the other half in Hanover and Berlin."
The two first met at an international business conference in 2015. Kim, who is serving as the Seoul representative of the Economic Development Agency of the German state of North Rhine-Westphalia, has taken the role of interpreting for Schroeder. Their relationship was first made public through Doris Schroeder-Koepf's Facebook, who went through a divorce with the former German chancellor last year. Afterwards, Mr. Schroeder and Kim admitted that they were dating through German media outlets.
"A lot of things that happen cannot be explained with academic studies, logic, or philosophy," said Schroeder, quoting a line from Hamlet. "Objectively, it was not an easy decision to spend half of the rest of my life in Korea, but this happened after all like it was destiny," he said with a smile. "It was a lucky destiny."
teller@donga.com