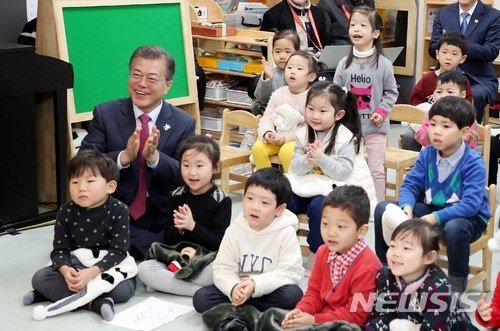 President Moon Jae-in said on Wednesday that he would increase state- or publicly-funded kindergartens and childcare facilities' accommodation rate to up to 40 percent during his term in office from the current 10.3 percent.
During his visit to a childcare center in a neighborhood eastern Seoul on the day, the president said that the government had built over 370 state- or publicly-funded kindergartens and childcare facilities last year, more than double the original target. "If we build 450 this year and go on in such a pace, I think we can achieve the 40 percent goal," he said. Regarding private childcare facilities' protest against the government's plan to increase state- or publicly-funded childcare facilities, he said the government would provide more support for private ones.
Separately, President Moon ordered on Wednesday morning his staff to seek a meeting between him and parliamentary leaders of the ruling and opposition parties before the opening of the PyeongChang Winter Olympics, stressing the importance of bipartisan cooperation with the one of the world's largest sports events.
However, Kim Sung-tae, floor leader of the main opposition Liberty Korea Party, rejected the offer, arguing that the proposed meeting would be "meaningless" unless the president stops "retaliatory politics." Kim also urged the president to request that North Korea stop its planned military parade marking the founding anniversary of the North Korean military. Pyongyang moved the parade date to February 8, just one day before the Olympics, from April 25.
alwaysj@donga.com