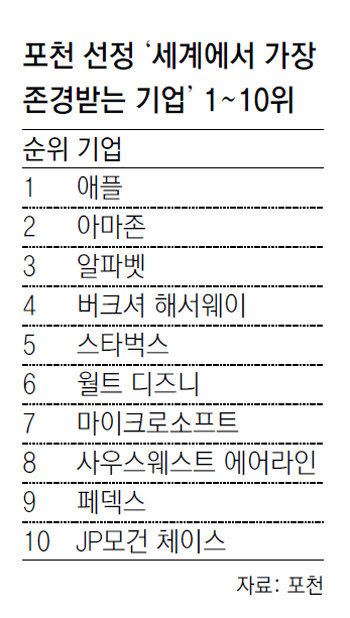 Apple has topped Fortune's list of the "World's Most Admired Companies" for the 11th year, according to this year's list published by the U.S.-based business magazine on Sunday. Samsung Electronics, meanwhile, failed to be included in the list of 50 most admired companies yet again, following last year.
Despite its recent "battery-gate," Apple finished ahead of all other companies, topping the list in all of the nine categories of the "computer" industry with the record total score of 8.53 points. Yet, it is not sure whether the tech giant's recent iPhone battery controversy had affected the result since the exact period of the survey is not known.
In the meantime, Samsung was left out of the list for the two consecutive years. The Korean electronics giant had been included in the list since 2009, and went up as high as the 21st in 2014. However, the scandal over the explosion of its "Galaxy Note 7" in 2016 and the prosecution's probe into its Vice Chairman Lee Jae-yong seemed to have an effect on Samsung's fall in the rankings.
Most of the top 50 positions were taken by U.S. companies. The top 10 companies are all American businesses, with Amazon in the second place, followed by Alphabet, Google's parent company; Berkshire Hathaway, Warren Buffett's holding company; and Starbucks. Among Asian companies, Japan's automotive manufacturer Toyota and Singapore Airlines were ranked 29th and 32nd, respectively.
Fortune conducted a survey of the selected 680 companies after analyzing the top 1,000 U.S. companies by sales and 500 companies based in other regions with sales of over 10 billion U.S. dollars (around 10.69 trillion won) by industry. Around 3,900 individuals including the executives and analysts of the chosen companies took part in the survey.
Jae-Hee Kim jetti@donga.com