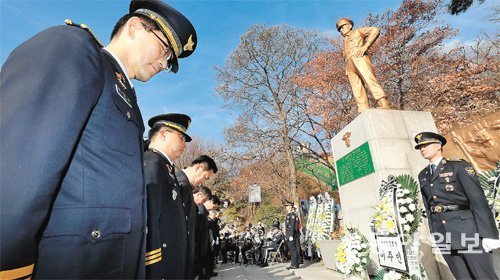 Deputy commissioner Choi Gyu-shik, head of Jongno Police Station in Seoul, and Sergeant Jeong Jong-soo died when North Korea's "January 21 attack" happened 50 years ago. A 50th memorial ceremony for the two fallen police officers, who are lauded as having "defended Seoul by sacrificing their lives," took place at Jahamun Hill in Jongno district in Seoul on Friday.
Choi and Jeong encountered 31 armed guerrillas including Kim Shin-jo from North Korea, at the Jahamun Hill checkpoint (site of current Cheongun Silver Center) around 10:10 a.m. on January 21, 1968. The North Korean guerillas, who penetrated into the South and crossed over Mount Inwang to attack the presidential office of Cheong Wa Dae, had only 500 meters to go before reaching the president's office.
When Choi stopped them, they took out semiautomatic rifles from inside their jackets, and opened fire en masse. Choi was shot in the chest and died immediately. Jeong, who got four shots in the belly and other locations, died at hospital 10 days later. Bust sculptures of Choi and Jeong are now standing at Jahamun Hill. Previously, only a memorial stone was sitting there for Jeong until Seoul Metropolitan Police Agency erected his bust sculpture last year.
In attendance at the memorial ceremony were five bereaved family members of Choi and Jeong, Seoul police commissioner Lee Ju-min, and Kim Ki-hyeon, chief of the presidential secret service's defense and security team. Thirty-nine students from Baehwa Girls' High School also attended the ceremony with a ribbon reading "your invaluable sacrifice will be remembered" on their chest.
"I hope that my father's patriotism for the nation will live on as spirit of our police," said Choi Min-seok, the eldest son (56) of the late Choi. "There is currently reconciliatory mood between the two Koreas including the formation of a unified team for the PyeongChang Winter Olympics, but history such as the January 21 attack should be remembered," said Jeong Chang-han (63), a son of the late Jeong.
"Our nation was able to achieve astonishing development thanks to sacrifice by many police officers who died in the line of duty," said Commissioner Lee in his memorial address. "In order to honor them for their heroic deaths, we as their successors should remember their sacrifice forever."
Ji-Sun Choi aurinko@donga.com