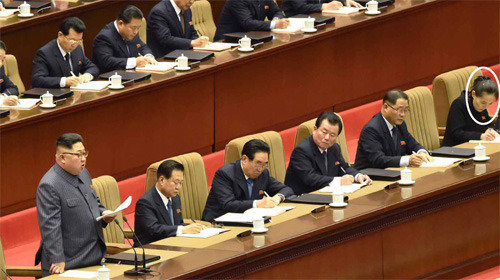 North Korea's official state-run newspaper Rodong Sinmun reported Friday that the North's leader Kim Jong Un said on Thursday at the 5th Conference of Cell Chairpersons of the Workers' Party, "No one in the world can deny the power of the republic that has emerged as a strategic country capable of real nuclear threats to the United States."
At the conference, Kim Yo Jong, Kim Jong Un's sister and vice-director of a department within the Workers' Party, has been seen sitting at the first row with other presidium members. When seen from the front, she was given a seat five seats away from Kim Jong Un. In line with this seating map, analysts say that she may be one of the top 10 influential members of the party.
Kim Yo Jong has made several appearances while she was escorting her brother at multiple occasions. Her sitting alongside Choe Ryong Hae, vice chairman of the Workers' Party, and other senior members of the party may be an interpretation of her promotion in the hierarchy within the party.
In-Chan Hwang hic@donga.com