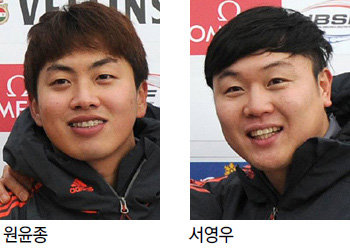 The Korean bobsleigh team comprising Won Yoon-jong (30) and Seo Young-woo (24), who acquired the bronze medal at a World Cup for the first time in the two-man competition last month, have garnered the bronze in two consecutive events on Saturday.
Won and Seo ranked third with a combined time of 1:50:71 from the first and second races in the second 2015-2016 IBSF World Cup, which took place in Winterberg, Germany on Saturday. The gold medal went to Francesco Friedrich and Thorsten Margis (a time of 1:50:37) of Germany, and the silver to Oskars Melbardis and Daumants Dreikens (time of 1:50:50) of Latvia.
Won and Seo, who ranked fourth with a time of 55:30 in the first race, crossed the finish line with a time of 55:41 in the second race, to secure the third place overall. The Korean team's combined time was 2.31 seconds faster than its combined time in the first competition six days ago. "It is almost a miracle that Korean players have won bronze medals back-to-back at unfamiliar European tracks, for which I am extremely grateful," Korean national team coach Lee Yong said.
Yoon Seong-bin (21) of Korea has also won a medal in the skeleton competition by ranking fourth with a time of 1:55:60 overall from the first and second races. Championships hosted by IBSF honors athletes ranking up to sixth with prizes.
Yoon posted a time of 57:47 in the first race, and 58:13 in the second. Yoon recorded a top speed of 128 kilometers per hour in the first race, which was the fastest among 16 players who competed in the first race. The third competition will take place in Königssee, Germany from Saturday.
wing@donga.com