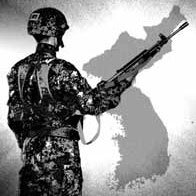 Land in North Korea across the demilitarized zone viewed from the Seungjeon Observatory in Yeoncheon County, Gyeonggi Province over the weekend looked beautiful with autumn color. After a provocation with wooden-box mines, North Korea conducted artillery strikes at a military unit and civilian areas in Yeoncheon, South Korea in August. More than 70 civilians including members of the Korea Institute of Liberal Democracy remained on alert despite breathtaking beauty of autumn leaves connecting South and North Korea on Saturday, as they recalled memories of the North's provocations. "The North's provocations in August were real situations that reminded us that the two Koreas can come into armed conflict anytime. We are on the highest level of preparedness with the commitment to risk our lives to protect our land." This briefing displaying the military's strong commitment to defend the nation by an information officer of the 25th Infantry Division helped ease their anxiety, but civilian visitors looked serious throughout the visit nonetheless.
If you visit one of the 11 observatories in the frontline ranging from Jejeok-bong Observatory in Ganghwa Island, Incheon in the west to Tongil Observatory in Goseong, Gangwon Province in the east, you can realize in person the situation of inter-Korean standoff. This is the so-called "security tourism." People gather to take a firsthand look at the situation of a divided Korea, the one and only such nation in the world. About 2.7 million people participated in "security tourism" last year. Of them, 550,000 were foreigners. If inter-Korean relations improve, and a DMZ Peace Park is constructed, the area will become a hotspot and attract even more tourists.
Security tourism effectively came to a halt due to the North's provocations in August. As the tourism instantly rebounded, however, the number of tourists to the Yeoncheon region jumped from 1,200 people in September to 1,900 in October. "A growing number of people want programs in which they can experience difficult daily life of South Korean soldiers in the barracks for a day, and encourage the soldiers," said Jang Seung-jae, head of DMZ Tour. "South Koreans' awareness about the importance of security seems to have increased after the North's anti-personnel mines attacks." As the South Korean military has beefed up preparedness and civilians have improved awareness about national security in the South, the North effectively inflicted damage on itself.
Moreover, the North has declared aviation and navigation ban on waters in the East Sea near Wonsan, Gangwon Province from November 11 to December 7. The South Korean military judges that the North could conduct rocket separation test with a newly developed short-range missile or ballistic missile, or fire a submarine-launched ballistic missile. The North's intention is unclear. All we need is our solid commitment to national security and capability.
hnbhang@donga.com