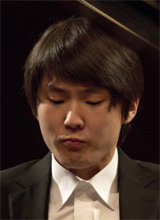 Most of the judges gave nine or 10 out of 10 points, but one gave one alone.
The "scorecard" of the 17th Chopin International Piano Competition was released on its website on Friday (local time). It shows the votes in every round of every single member of the jury. One judge gave just one mark out of 10 in the final round to the ultimate winner Cho Seong-jin and also gave the lowest points to him in each round.
The Chopin piano competition has unveiled total points for fairness since last year. The total number of jurors is 17. Cho won at least nine points from 14 jurors. He claimed the top award with 143 total points and 8.41 points on average, surpassing Canada's Charles Richard-Hamelin, the second place winner (138 total points and 8.12 points on average).
French pianist Philippe Entremont, 81, gave Cho one point, the lowest score. There was one point in the past but it was the case where the pianist did not perform well and most jurors gave the pianist five or less points. It is unusual that only one juror gives a pianist one point while the majority of jurors gave him nine or 10 points.
Even though Entremont gave the 21-year-old Korean pianist bad scores, Cho earned 22 to 25 points out of 25. Entremont gave him 23 points in the first round but 14 points and 18 points in the second and third round, respectively. When asked yes or no to the pianist's advancement to the next round, he was the only one who said "no" to him among 17 jurors.
Park Je-seong, a critic who watched the competition first hand, said, "Cho`s performance was perfect and this is not understandable." On the Internet, some speculated that Entremont has trouble with Michel Beroff, Cho's teacher. Some wrote comments like "(Entremont) is not a material for a good juror," and "(He) seemed to have reflected his personal feelings."
suhchoi@donga.com