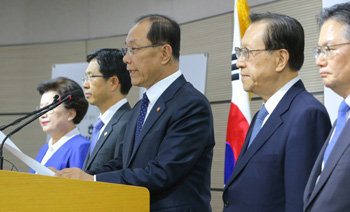 Conflicts are spreading over the government's decision to reintroduce state-published history textbooks for secondary education starting in the first semester of 2017. Controversy is simmering across the political circles as well as the academia and civil society, fueling anxiety in the education circles. Against this back drop, some propose to establish an independent publisher and a system to back it up insulated from the influence of the government and political propensity, as a fundamental solution to the controversy at hand.
Deputy Prime Minister and Education Minister Hwang Wu-yeo announced "the measure to improve the publication system of history textbooks" at Sejong Government Complex on Monday. Minister Hwang said, "Since the screening system was introduced in 2002, controversies have constantly been raised over factual fallacies and bias." The education minister made a case for the ministry's decision, saying, "Our children are not given the opportunity to learn about the proud history of Korea, which accomplished industrialization and democratization in the shortest period of time in history." The drive to introduce the system allowing the government to author history textbooks first gained traction when President Park said that "any distorts in history education must be corrected" in June, 2013, fourth months after she was sworn in. Eight months later or in February last year, President Park mentioned again the need for "history textbooks with a balanced point of view", and the education ministry began to review the agenda in earnest.
Despite the official announcement of the ministry, however, it is still uncertain whether state-authored history textbooks will be published in the end, given the vehement opposition that the proposal is facing at the moment. The opposition parties are mobilizing all means available to stop the education minister, going so far as to submit a motion to have him dismissed, and historians are handing in statements to refuse to be commissioned by the government to author history textbooks.
While the reason behind it is complex, the controversy is fundamentally attributable to the public perception that the history textbooks currently in use are depicted either as too conservative or too progressive. For this reason, some point out the desperate need to introduce a system where both conservative and liberal scholars can gather together and have enough debates and discussions to write textbooks together without being influenced or interfered by outside forces. In particular, there is a growing voice emphasizing the need to establish an independent publisher to prevent an exhaustive debate over the history textbooks, considering the extreme volatility of education systems of the country, including its curriculum, SAT, and college admission system, which are often swayed by the political orientation of the ruling party
nabi@donga.com