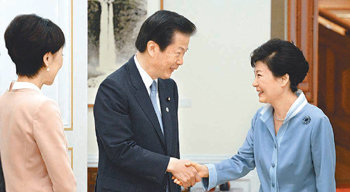 President Park Geun-hye met with the leader of the junior partner in Japan`s ruling coalition at her office Cheong Wa Dae on Thursday. Natsuo Yamaguchi, leader of Komeito, delivered to President Park a personal letter from Japanese Prime Minister Shinzo Abe.
After the meeting, Yamaguchi told reporters, "Since 1965, when South Korea and Japan normalized their diplomatic ties, the two countries have maintained cooperative relations. (In his letter), Abe expressed his hope for building future-oriented relations with Seoul." Park is said to have replied by saying that she expects Abe to participate in the upcoming trilateral summit among South Korea, China and Japan.
Yamaguchi said he hopes that Park and Abe can hold summit talks on the sidelines of the trilateral summit but that the South Korean president did not make any remark about the offer. Cheong Wa Dai said that there was "no particular progress" in a possible Seoul-Tokyo summit.
President Park showed her strong will to resolve the issue of Japan`s sexual enslavement of Korean women during World War II, as it warrants urgency, given the victims` old age. Regarding Japan`s legislation of its self-defensive right, Park called for Tokyo`s greater transparency in the move and efforts to dispel worries by its neighboring country, according to the Japanese politician. Park also expressed concern over hate speech against Korea in Japan.
mhpark@donga.com