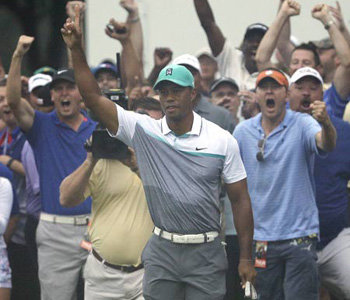 Tiger Woods wore a blue cap for the first time, as he participated at the first round of the PGA tour Wyndham Championship, which took place at Sedgefield Country Club (par 70) in Greensboro, North Carolina, the U.S. on Friday. The championship is a B-class event in which almost no star players among those who already secured berths for the playoffs that will start next week take part. Woods had never shown up at the championship through last year either.
However, having little chance to join the playoffs as he has suffered a deep slump in this season, Woods took part in the championship as part of his final attempts to secure a chance. He got off a good start. He played six-under 64 overall by garnering seven birdies and committing one bogey. Then, he said, "Finally, I felt something promising after finishing the round," smiling. Woods had the lowest score on the day since playing 61 pars at the second round of the 2013 Bridgestone Invitational.
Woods, who humiliatingly failed to make the cut to participate at a major PGA tournament at three consecutive events this year, only posted the rate of his tee shot on the fairway reaching 50 percent in the first round, but displayed a high, 77.8 percent accuracy rate of hitting the greens, and only had 26 putting in total.
If Woods is to join the playoffs, he should elevate his ranking at the FedEx Cup from 187th at present to less than 125th. To this end, he should rank second place or higher at the current event. Woods finished tying for seventh with a difference of two pars versus players who are tying for first, including William McGirt, Erik Compton, and Tom Hoge (U.S.). Compton, who underwent heart transplant surgery twice and who is ranking 114th at the FedEx Cup, increased his chance to advance to the playoffs.
Ahn Byung-hoon, who was an invited player, tied for 35th by scoring 3-under 67. Choi Kyung-joo, who is ranking 147th at the FedEx Cup, tied for 66th (2-under 68), displaying sluggish performance.
kjs0123@donga.com