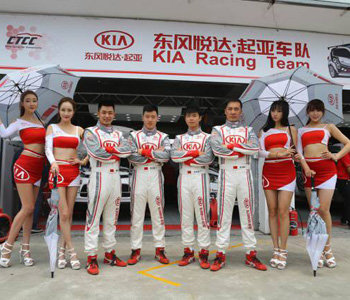 Hyundai-Kia R&D Center showcases an independently-developed racing car engine at a domestic motor sport event.
At a 3-day motor sport festival of Korea, China and Japan taking place at Korea International Circuit in Yeongam, South Jeolla Province, Dongfeng Yueda Kia racing team (photo) races in K3 hatchback with turbocharged racing engine of 1.6. Dongfeng Yueda Kia is a joint venture between Kia Motors and Dongfeng Motor Group.
At a China Touring Car Championship held at Guangdong International Circuit on May, the racing team won the race with the vehicle of identical engine, beating Shanghai Volkswagen, ChangAn Ford, Dongfeng Honda. Based on a mass production engine of Hyundai's Avante and Kia's K3, the engine boasts maximum outputs of over 310 horsepower.
"Competitors run with cars whose engines have been produced by professional engine developers of racing cars while Dongfeng Yueda Kia competes with a car of which engine is developed by our own technology, which demonstrates its superior engine function," said Jeong U-seong (aged 42), deputy director at China branch of Kia Motors. Some 150 racing vehicles of seven levels run in the motor event.
wing@donga.com