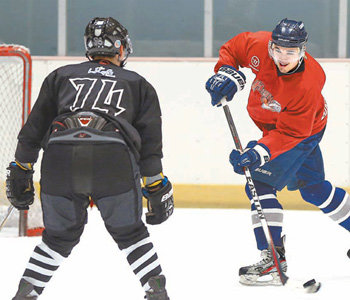 The Korean national ice hockey team will participate at the Pyeongchang Winter Olympics in 2018 in its capacity as the host country. It is the first time that the team will advance to the finals of the ice hockey competition due to a significant gap in performance levels vis-à-vis world-class teams.
The Korean team has a humble goal: To avoid crushing defeat that would disappoint Korean fans too much. It would be the best outcome if it secures even a single win. To this end, the Korean government has allowed four athletes who have naturalized as Korean citizens to join the national team in special cases. None of them have ethic Korean heritage.
Tylor Breckler, 24, also wishes to become a member of Team Korea. He is a "half Korean" U.S. citizen. Breckler played the central striker of his team at Division 3, the effective minor league of the National College Athletic Association (NCAA). State University of New York at Geneseo that he played belongs to the SUNY Athletic Conference (SUNYAC), the area that is the most competitive in Division 3. He was a main striker of his team and one of the three best players in the entire league.
A number of ice hockey teams in the U.S. and Europe sought to recruit Breckler, when he was about to gradate this year. He had strong commitment. Avoiding teams that would pay him top dollars, he sent his resume to two Korean ice hockey teams (High 1 and Anyang Halla). He also showed them video clips displaying his performance. He told them, "I truly want to play in my mother's motherland."
His efforts have apparently paid off. Coach Baek Ji-seon of the Korean national ice hockey team informed Breckler to get test at the team's camp in March this year. Breckler said, "I was happy because my mother was happier than myself. I think she would have been disappointed if I told her I will play in another country instead of Korea."
Having visited Korea for the first time with his parents, he said, "I felt like I became a good son to see my mother more excited than me," smiling. At the national team's camp that was convened to test players, Breckler demonstrated his impressive skills and performance. Due to this performance, he was able to join High 1 as well.
Breckler has two 'Korean dreams.' One is to become a member of the Korean national ice hockey team, and the other is to repay Korea with something. Planning to naturalize as a Korean citizen, Breckler said, "I am a person of mixed heritage, but I have never forgotten that I am a Korean. Before anything, what is important is to demonstrate my skills in my team."
The national team's chance to recruit him is positive for now. Having played as an athlete in North America, the origin of ice hockey, he is also armed with defense capability even as a striker, which is a rarity in Korea. A source at the Korean Ice Hockey Association said, " Coach Baek at the national team also has positive assessment of him. If he continues to display good performance, he could be picked as a national team member."
Breckler stressed that he is not seeking to naturalize as a Korean citizen to participate at the Olympic Games by avoiding the U.S. with an ample number of athletic hockey players. He said if he can contribute to the development of Korean ice hockey, it would be good enough. Breckler said, "I want to settle down and live in Korea. If I cannot play as a player, I wish to teach children as coach."
He said that upon hearing his thought, his parents advised him, "Since you lived in the U.S. for 24 years, it is time that you live in Korea for the next 24 years. We hope you achieve your dream with ice hockey you are good at."
creating@donga.com