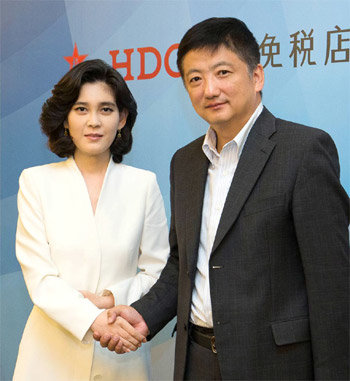 In response to plunging Chinese tourists in Korea due to the MES fear, Hotel Shilla President Lee Bu-jin asked China`s travel agency heads to encourage Chinese people`s trips to Korea.
Lee has been taking aggressive moves to tackle the MERS issue. She stayed at Jeju Hotel Shilla that suspended operations due to MERS and spearheaded the initiative to improve the situations at the hotel. She flew to China immediately after deciding to reopen the hotel on July 1.
According to Hotel Shilla, Lee jointly with HDC Shilla Duty Free Shop co-CEO and iPark Mall CEO Yang Chang-hoon visited Tuesday CTS and CYTS, two major travel agencies in Beijing, to meet their CEOs. CTS is China`s first travel agency, and has signed a memorandum of understanding with HDC Shilla Duty Free Shop in May on expanding Chinese tourists to Korea. CYTS, which was listed as the third state-owned travel agency in China, has also been leading the increase of Chinese tourists to Korea.
Yang and Lee met CTS Chairman Xue Xiao-Gang and said, "MERS situation in Korea is getting better with new cases at a standstill. We hope you can come up with new travel packages for the summer months and encourage Chinese travelers to come back to Korea."
Xiao-Gang said in response, "We will actively support and develop customized travel services embracing shopping, cultural experiences and tourism, to boost attractiveness of Korea travel."
salthj@donga.com