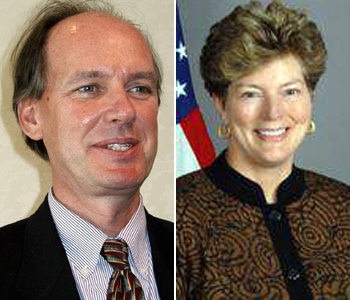 A senior official at Moody`s Investors Service, a major international credit rating agency, will likely become a promoter of the friendly ties between the United States and South Korea.
The Korea Society, a New York-based nonprofit organization for the promotion of interest and cooperation between the two allies, plans to appoint Thomas Byrne, senior vice president at Moody`s, as the group`s new chairman of the board at an annual banquet to be held at the Plaza Hotel in New York on Monday (local time), sources said.
Multiple sources in New York said that Byrne will likely become the first businessman-turned chairman of the Korea Society, whose top position has been taken predominantly by former U.S. State Department officials, including former U.S. ambassadors to Seoul. The sources expected Byrne to significantly broaden the scope of the group`s external activities.
Byrne is in charge of the Singapore-based sovereign risk group at Moody`s and primarily responsible for the ratings of the major Asian economies, such as South Korea, Japan and China. Previously, he served as a regional credit officer for the Asia-Pacific region and vice president for sovereign rating operations. He is businessman with deep knowledge on South Korea and has frequently given lectures or interviews on the South Korean economy. An official at the South Korean government said that Byrnes has an "extraordinary affection" for South Korea, as he once served in South Korea as a U.S. Peace Corps volunteer and as his wife is of Korean descent.
Earlier, Kathleen Stephens, who has recently joined the Korea Society as a board member, was considered a likely candidate for the chairmanship, as she has been regarded the "right person" for promoting bilateral friendship. She is the first woman U.S. ambassador to South Korea and even has a Korean name "Shim Eun-kyung."
Diplomatic sources projected that Stephens should be considered one of the favorite candidates for the next chairman of the Korea Society.
The group`s current board director is Thomas Hubbard, former U.S. Ambassador to South Korea, while its president is Mark Minton, former Deputy Chief of Mission at the U.S. Embassy in Seoul.
bookum90@donga.com