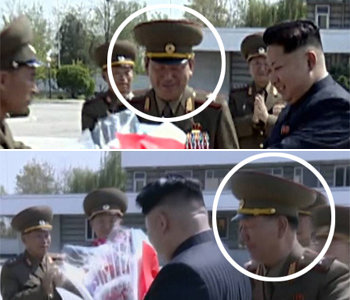 North Korea is disclosing through video footages every detail of scenes and mood of inspection visits by its leader Kim Jong Un in recent weeks, a significant change of practice from the era of his father the late Kim Jong Un that sought mysticism.
The North's Korean Central Television publicized without reservation the scenes of Kim Jong Un who got infuriated during his inspection visit to a terrapin farming plant on May 19 in a documentary that was aired on Friday. The fact Kim Jong Un expressed intense anger over the operational situation and achievements of the farming plant was already reported by its official Rodong Sinmun, but it is unusual that corresponding video footages have been made public as well.
In the video, Kim flails his hands and shakes his neck looking very angry, while talking to his aides in his company with an angry face, and gestures and points fingers as if he is stifled. Aides in his entourage are seen standing at attention with their faces down, and putting down Kim's instructions in their diary.
Hwang Pyong So, dubbed "No. 2 man" of North Korea, is no exception to the image of entourage members in high vigilance. The documentary entitled "Onsite inspection to the People's Army project," which was aired recently by Korean Central Television, featured footages of Kim Jong Un, accompanied by senior officials, taking a commemorative photo with attendees of the firth People's Army Trainers' Competition. In the video, Hwang Pyong So is seen noticing that he is walking about a step ahead, getting startled, and stepping back instantly.
Analysts say that such changes have become more common since Kim Jong Un's younger sister, Yo Jong, took control of the propaganda and instigation department at the ruling Workers' Party, which oversees and supervises North Korean media outlets. By publicizing shortcomings and imperfect aspects of the North Korean regime, albeit selectively, the video reportedly seeks to convey internal messages urging changes. A source at a state-run think tank in South Korea said, "The fact Kim Jong Un' making compliments during his inspection tour to a facility under a military unit in recent weeks, and criticizing officials at the terrapin farming plant, which is under the umbrella of the Cabinet and the party, is a warning message to the Cabinet and the party."
jkim@donga.com