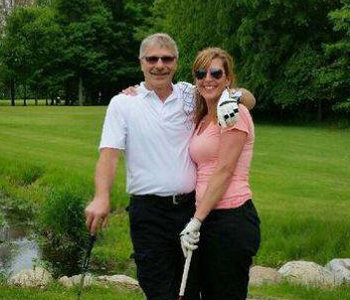 A couple from Portland, Michigan, was enjoying a golf round. Tony Blundy, 53, went first and one-hopped his 7-iron shot into the cup from 135 yards out at the 16th hole. He was happy about his first hole-in-one in his lifetime. Then, Janet Blundy, 43, planted her pitching wedge tee shot in front of the pin and rolled her shot into the same hole, 110 yards away. The couple's back-to-back holes-in-one were reported by the US Golf Digest on Thursday. Having played golf once a week for the past decade, they achieved a rare feat on Monday.
According to the National Hole-in-One Association, the odds of two amateur golfers in a foursome getting an ace on the same hole in the same round are 26 million-to-1. The odds of a husband and a wife having holes-in-one are astronomical – probably tens of millions-to-one.
Janet who had her second hole-in-one in her lifetime said, ""It`s surreal. I keep expecting to wake up and it`s a dream. If I do, I`m gonna be mad."
kjs0123@donga.com