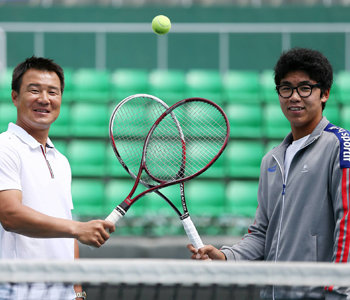 "Sorry for being late. There was a traffic jam on the way from Suwon." (Chung Hyeon)
"It's okay. It's better for me to be waiting for you. Congratulations for breaking into world tennis top 100." (Lee Hyung-taik)
Korea's legendary tennis player Lee Hyung-taik, 39, welcomed up-and-coming player Chung Hyeon who was 10 minutes late for the meeting at the Seoul Olympic Court on Thursday. Lee, who arrived Korea early morning on that day after having participated in the Challenger Tour in China, made time to congratulate Chung for becoming the world No. 88.
Before the meeting, Chung went through a physical examination for draft at the Suwon Military Manpower Administration. "It's been a long time since we last met. Chung seems to have grown further. It seems that you better grow physical strength. I'd recommend continuous weight training even during a competition period," said the legend of Korean tennis history. Chung smiled and said, "I measured my height this morning. It was 186 cm, three centimeters taller than last year's height."
"I played in the U.S. Open, the first major competition that I played, at the aged of 24. I met Pete Sampras in the round of 16, the player I had only seen from TV or magazines. I got up early in the morning as my heart pounded too fast before the game. I have high expectation on Chung, as he is fast in pace and movement," Lee said.
Chung, who is likely to be automatically qualified to the Wimbledon Championships in June, said, "If I meet Novak Djokovic or Roger Federer, probably I would be too nervous and want to get out of the court." Lee gave a piece of advice, saying, You will continue to play in world tours or major competitions. As it may not be easy to win in the near future, you must enhance physical strength and wisely manage your schedules."
In 2012, Lee taught Chung at the Junior Davis Cup. The seasoned veteran player complimented, "Chung carried out his duties well, including managing his physical condition even at the young age. He was diligent and quite focused. I thought he would grow into a good player." When he was a middle school student, Chung dreamed of becoming a tennis star while he was serving as a ball boy at domestic tennis games where Lee played. Now, the young ball boy has grown into a rising tennis star who is expected to break various records set by Lee.
kjs0123@donga.com