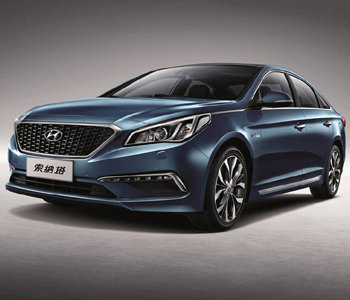 Beijing Hyundai Motor, the Chinese affiliate of Hyundai Motor, held a ceremony to launch the "Chinese version of the new Sonata" in Shenzhen in Guangdong Province on Friday, and started sales in earnest.
Hyundai has added to its Sonata lineup in China models with more efficient power train, including a model with 1.6-liter turbo GDI engine and 7-speed dual clutch transmission (DCT). Unlike the models (vertical design grill) for the Korean market, the radiator grill of this car comes with a net-shaped design meant to cater to the flavor of Chinese consumers who prefer a splendorous look. Considering that road surface is not very smooth in China, the vehicle's ground clearance has been increased 10 mm compared with the model for the Korean market.
The Chinese mid-size sedan market is projected to hit 1.54 million sold this year, up 8.3 percent from last year. Amid expansion of the middle class, automakers operating in China have introduced three to four new models in this segment every year. Hyundai Motor targets 120,000 vehicles of the all new Sonata sold in China on average per year.
yhkang@donga.com