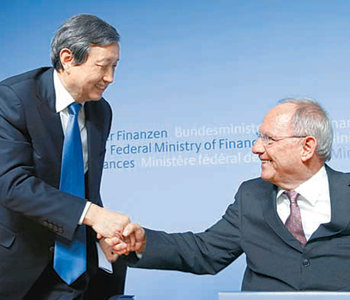 The United States is fretting as major EU powers such as Britain, France and Germany plan to join the Asian Infrastructure Investment Bank (AIIB), a new China-led Asian development bank.
Speaking at a congressional hearing on Tuesday, U.S. Treasury Secretary Jacob Lew said that while the U.S. was not opposed to the idea of the AIIB and recognized the need for greater infrastructure spending in Asia, Washington was concerned that the AIIB would not live up to "the highest global standards" for governance or lending.
The White House and the Department of State also provided support for the Treasury Department. White House spokesman Josh Earnest said that any new multilateral organization should adopt the same high standards, oversight and safeguards that the World Bank and other infrastructure banks have adopted.
U.S. State Department spokeswoman Jen Psaki told a regular press briefing on Tuesday, "It`s a decision of any sovereign country, including South Korea, to make on AIIB. But it will be important for prospective members of the AIIB to push for the adoption of those same high standards."
However, some U.S. experts argue that Washington should revise its strategy and help the AIIB be founded in a way favorable to the U.S., rather than simply opposing its establishment. "It is nonsense to argue that carping from outside will be more effective," said Fred Bergsten, a founder of the Peterson Institute and a former Treasury official, in an interview with Reuters.
ddr@donga.com