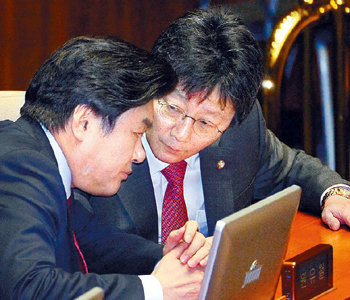 The academic tradition of University of Wisconsin is gaining attention following nomination of people who have economic PhDs of the university in key posts in the government, presidential office and political parties. They include Deputy Prime Minister Choi Kyung-hwan, Presidential Senior Secretary for Economic Affairs Ahn Jong-bum and floor leader of the main Saenuri Party Yoo Seung-min. The economics department at the University of Wisconsin ranked 13th last year at the U.S. New and World Report university ranking. Ivy League universities mainly take the top of the list. University of Wisconsin was at a high rank despite it was a state university in the central region of the country.
University of Wisconsin is located in the central region regarded as a conservative area but has a strong liberal academic tradition. The department of economics also has a strong neoclassical tradition that favors capital market instead of government intervention. Professor Chung Ju-yeon at Korea University, who earned his doctorate at University of Wisconsin, said, "Those who studied at University of Wisconsin has pride in that they represent a market economy tradition along with nearby University of Chicago."
The university had been preferred by Korea`s elite civil servants who passed civil service exam. Korean civil servants massively went abroad to study in the 1980s and 1990s. Thanks to World Bank`s funding that allowed five to 10 civil servants to study abroad every year, University of Wisconsin was popular among them. Soon, Moon Dong-hoo, secretary general of the PyeongChang Organizing Committee for the 2018 Olympic Games, was the first alumnus who became public official after earning master of administrative policy at Wisconsin.
Back then, University of Wisconsin was famous for development economics and public administration and had good inter-departmental exchange programs, which enabled operation of curriculums focusing on practical policy establishments. Tuition costs were affordable as a state university, and the university had a high quality academic atmosphere. It operated a dormitory for married people (Eagle Heights) and gained popularity among Korean civil servants who chose to study abroad after marriage.
Deputy Prime Minister Choi and Saenuri Party flood leader Yoo are famous for having cared for juniors when they were studying at Wisconsin. Choi has served as the president of the alumni association for five straight years since 2010, and Yoo also joins the alumni meeting with perfect attendance.