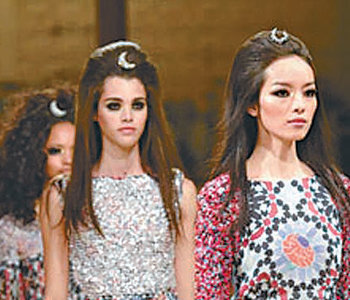 Luxury fashion brand Chanel will present its "Cruise Collection" in Seoul in May. This is the very first show that Chanel holds one of its regular shows in Korea.
"Chanel's 2015-2016 cruise collection will debut on May 4 at Dongdaemun Design Plaza in Seoul," said the brand. Cruise collection is the show that fashion items are showcased for travelers who head for warmer destinations during cold winter months. Since 2000, Chanel has held its cruise collection shows in May in global cities such as Paris and Saint-Tropez in France and Venice in Italy.
"Seoul is the place where old tradition and state-of-the-art technologies coexist in perfect harmony," said Chanel explaining why it chose the city for its May collection. Experts reckon that this is a telling sign that Seoul's status as a fashion city has greatly risen. Gan Ho-seop, professor of textile art fashion design at Hongik University, says that "Hong Kong is out of the list when luxurious global brands make their tour shows, but Seoul is in. Now, Seoul is enjoying its dynamic image, economic growth and cultural maturity."
The planned show is expected to bring economic benefits to Korea's capital city as approximately 1,000 fashion celebrities, including Chanel's head designer Karl Lagerfeld and actors, actresses, VIPs are visiting the city. The show will also give Seoul promotional opportunities as major foreign media will be airing the cruise show until the end of this year when collection items are to be sold at stores in Seoul.
For that reason, it is known that the government of Dubai, which had Chanel's cruise collection last year, gave full support for the show. Crown Prince Hamdan bin Mohammed bin Rashid Al Maktoum lent his artificial island for the show, providing his boats to carry visitors from different countries to the island. "It is known that last year, Arabian rich people held a competition to select Chanel VIPs who were given cruise collection tickets," sources from the fashion industry say. "This year's show will be a golden opportunity to promote Seoul to the world and catch eyes of Asia's affluent population."