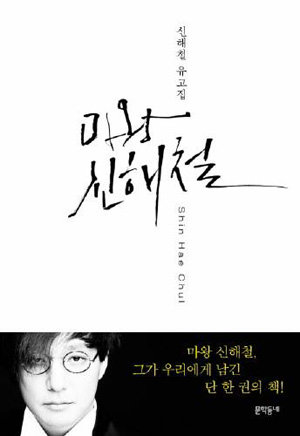 A book of essays written by the late rocker Shin Hae-cheol has been published posthumously. The book was published on Wednesday, exactly the 26th anniversary day since the singer's music band "Caterpillar" won the grand prize at MBC TV's college student singing contest with the song "To You."
According to the publisher Munhak Dongne, the book's publishing started after Shin's wife Yoon Won-hee discovered a folder entitled "Book" contained in his computer while she was compiling the late singer's belongings. The folder contained essays amounting to hundreds of pages. Almost all the essays from the collection are contained in the book.
Munhak Dongne said, "The writings were discovered neatly compiled and edited as if singer Shin wrote and repeatedly edited whenever he had time from 2006 to a recent date." The publisher used in the book photos and accompanying subtitles as well as most of the headings for different chapters as written by the singer.
The book is close in nature to Shin's memoir that deals with his life from the childhood. It carries his views and accounts on love, religion, art and social issues through sharp language and black humors, the hallmark of the singer.