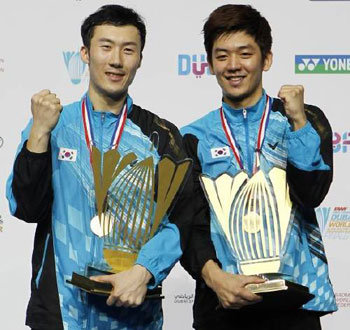 Lee Yong-dae, 26, and Yoo Yeon-seong, 28, had a photo taken with the back ground of the Burj Khalifa, the world's highest building, to celebrate their victory on Sunday night. The two Korean badminton players smiled brightly with their thumbs up to the 163-story building. They claimed the BWF Destination Dubai World Superseries title in men's doubles at the Hamdan Sports Complex in Dubai, which is 20 minutes from the 828-meter tall building by car.
The world's top-ranked pair lost the first set to the first Chai Biao and Hong Wei of China, the world's seventh-ranked team, but claimed a come-from-the-behind victory in the 84-minute match. As a result, the Koreans claimed the title in this year's final competition where the world's top eight teams were entitled to participate. Lee and Yoo who returned home on Monday said, "We had many twists and turns this year but we are very pleased to win at last. It'll be an unforgettable year."
Earlier this year, they could not predict their future. Lee Yong-dae was handed one-year suspension for missing doping tests in January. Lee and Yoo who lost his partner were in deep shock. As the suspension was lifted in about three months, they started playing together from May. As they sweated to maintain their best condition respectively, they could achieve three consecutive wins and were ranked top in the world in August. The pair, however, won silver medals in the BWF World Championship and the 2014 Incheon Asian Games. Their win in the finals broke their jinx and brightened their next season's prospects.
Lee said, "Major international competitions next year are subject to Olympic points that could affect the participation in the 2016 Rio Olympics. The Olympics has actually started. I'll continue my momentum by boosting my stamina on top of the confidence that I gained this year."
Yoo will get married to a Japanese woman who he has met for three years in Seoul on Feb. 7 next year. He plans to get a house near the Taeneung Korea National Training Center to concentrate on sports. He said, "Next year will be important because I'll have my lifetime partner and prepare for the Olympics. I'll not be overconfident and make a new determination."