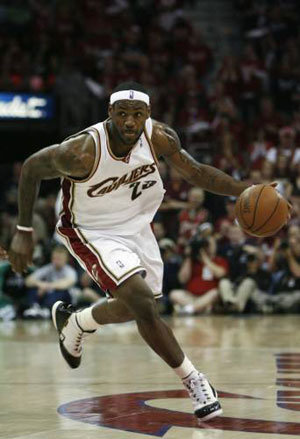 In May, an alumnus of St. Vincent-St. Mary High School in Akron, Ohio, cried like a child while holding the NBA's Most Valuable Player trophy.
LeBron James of the Cleveland Cavaliers returned to the neighborhood where he grew up driving a car that cost more than 200,000 U.S. dollars and wearing a luxury suit.
The latest player to be called the next Michael Jordan granted The Dong-A Ilbo an exclusive e-mail interview.
James said he has put in excruciating efforts to sculpt his armor-like body. He said TV screens are so obsessed over showing how cool he is but never shows his normal schedule of hard training. He said that he takes "customized exercises" of catching, shooting and dribbling the ball. The player said he seeks a well-balanced body with maximum power and flexibility.
He also said he has pledged everything on winning the league title this season, expressing confidence over his team's good atmosphere and power.
Yet James cited how good other teams are, including the two teams that advanced to the NBA Finals last season, the Boston Celtics and the Orlando Magic. He said the Celtics can dominate the three-point line at any time, while the Magic is a fast team coupled with the power of center Dwight Howard.
Though the season has just started, sources are talking about next summer, when James will become a free agent. Speculation is rampant over whether he will stay with the Cavaliers or move on to the New York Knicks.
He said he wants to go to a team that has the biggest potential to win, suggesting his commitment to winning a championship ring this season and then thinking about his next move.
James, however, hinted at going to New York, noting the excellent facilities and tradition of Madison Square Garden. He also said he gets excited by New York fans and feels as if he is a superstar performing on a big stage.
Yet he thanked his fans in Cleveland, saying he is happy to show his talent in his hometown and get the support of his home fans.
niceshin@donga.com