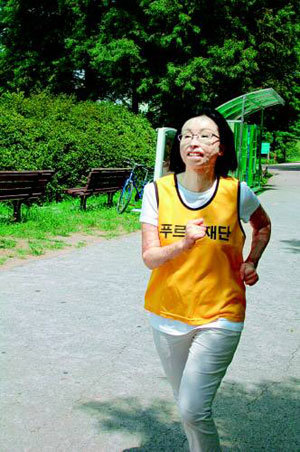 A Korean woman who suffered severe burns will run in the New York Marathon Sunday.
Lee Ji-sun, 31, suffered third-degree burns on over 55 percent of her body in 2002 and had 40 surgeries. A graduate student majoring in social welfare at Columbia University, she is in Korea on vacation.
Running a full marathon is an uphill battle, but she decided to do so after hearing that other disabled people will compete in the race.
Lee said she wants to raise funds for building a rehabilitation hospital for the disabled. Since 2005, she has served as a PR ambassador for the non-profit Prume Foundation, which is spearheading the construction of the hospital.
Her condition is an impediment to running a marathon since breathing through the skin is critical in running.
Exercise causes body temperature to rise, so the human body sweats to lower temperature. Because of this, those with damaged skin have difficulty running, according to experts.
Lee said her determination is solid, however. "If I experience difficulty, I will walk the full marathon," she said. "This race is to raise public awareness of the importance of a rehabilitation hospital and remove prejudice against the disabled."
She is training 90 minutes every day for the race and is the focus of extensive media coverage.
Some 60,000 messages have been posted on Lee's Web site (http://www.ezsun.net). Every other Monday, she writes the column "Lee Ji-sun's Hope Virus." She described her expectations of the New York marathon in a column written Monday.
Prume got a boost after Lee announced her intention to run. Its official homepage has the page "An inspirational 42.195 kilometer marathon running with Lee Ji-sun" to get support.
Running with Lee will be Kim Hwang-tae, who lost both of his arms; Lee Soo-wan, who has a hearing impairment; Kim Yeoung-ki, who is mentally disabled; and Shin Hyeon-seong, who is visually impaired.
yjongk@donga.com