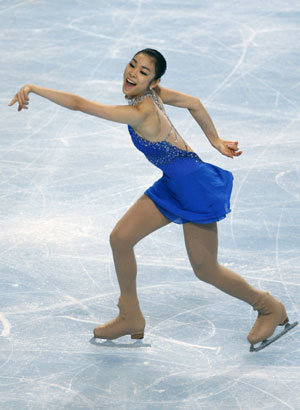 World figure skating champion Kim Yu-na has made history in winning the first event of the ISU Grand Prix season, and experts say she could keep breaking records throughout the season.
In Paris at the Trophee Bompard Saturday, she set a record in the free skate category with a score of 210.03, breaking her previous women's world record of 207.71 set at the world championships in March in Los Angeles.
The only other skater to top 200 points is Mao Asada of Japan with 201.87 at the World Team Trophy Championship in Japan in April. Certain experts say, however, that Asada's mark might not carry much weight because it was set at a national championship, not international.
Considering the speed of her progress, Kim could break her record again in this year's Grand Prix season. In the free skate competition, Kim got no points for failing in her second attempt at a triple flip (base score of 5.5 points). In the short program, she won a bonus point to secure 6.5 points.
Had Kim landed the triple flip, she could have earned 216 points, and if she earns bonus points by further improving her spins and steps, she could hit 220 points.
Lee Ji-hee, vice chairwoman for figure skating at the Korea Skating Union and a judge at the Trophee Bompard in Paris, said, "Since many judges give penalty points under the previous scoring method instead of the new one, Kim did not get a high score."
"But after watching Kim's outstanding performance, judges reached a consensus to give sufficient bonus points. This only applied to Kim."
With the Grand Prix season just starting, excitement is building over whether Kim can keep breaking records.
creating@donga.com