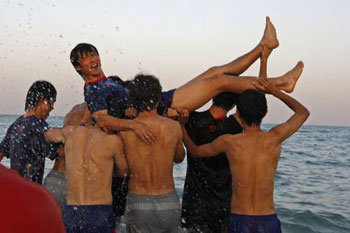 The national under-20 soccer team is out of the FIFA U-20 World Cup, but still had its best showing in the tournament in 18 years.
The 3-2 quarterfinal loss Friday to Ghana in Suez, Egypt, eliminated Korea and denied the team a chance to match its showing in 1983, when it made the semifinals in Mexico.
By making it to the quarterfinals for the first time since the 1991 Portugal tournament, however, Korea showed a glimpse of its potential to the world.
○ Systemic soccer and Hong's leadership shine
The team lacked a significant star and had little training time because of the arduous process of selecting players took a while. Yet the 21 players led by coach Hong Myung-bo achieved surprising results.
Korea opened with a disappointing 2-0 loss to Cameroon, showing weak defense due to little experience in international events. The Taegeuk Warriors, however, made up for lack of individual skills with systemic and organized play. As the event progressed, the team improved and showed exceptional skills in organized play at midfield and overwhelmed its rivals.
Hong's leadership also attracted attention and broke the jinx plaguing star players who try their hands at coaching. In addition to what he learned from former national team coaches Guus Hiddink, Dick Advocaat and Pim Verbeek, Hong added a flavor of his own in creating his unique style of leadership.
He urged younger players to respect each other and lead creative play based on independent decisions.
Ghana will face Hungary in the semifinals, while Brazil takes on Costa Rica.
○ Next target: 2012 London Olympics
Hong's next task is to lead his team in the 2012 London Summer Olympics. The youth team is set to return to Seoul Monday morning.
Hong will participate in the process of developing the under-20 team into the Olympic team. His next squad will debut Dec. 19 in a friendly against Japan's Olympic team to celebrate the opening of Changwon Football Center in South Gyeongsang Province.
creating@donga.com