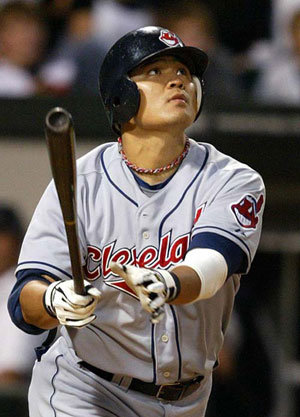 Slugger Choo Shin-soo of the Cleveland Indians has raised his batting average back to .300.
Choo had three straight hits in a game at the Baltimore Orioles yesterday to raise his average from .297 to .301, returning to .300 for the first time since a game versus the Chicago White Sox July 9.
In baseball, hitting .300 might appear easy to attain but is difficult to maintain over the 162-game regular season spanning six months. Only 21 players in the majors, including Choo, have kept their averages above .300 in the slugger-packed American League.
This season is the first for Choo as a full-time starter. Playing cleanup hitter this year, he has been marked by opposing pitchers.
Choo hit .309 last season but failed to rank as a hitting leader because he lacked the minimum number of times at bat. Should he keep his batting average at .300 or above over the rest of this season, he will become the first Korean to hit .300 for a season in the U.S. majors.
Chances are quite high that Choo will keep hitting .300 for the rest of the season. He has maintained a stable batting record without a notable slump this season. A batter's performance tends to fluctuate more than a pitcher's, and a less experienced batter will have hard time overcoming a slump.
Choo has failed to get a hit in three consecutive games only twice this season. He went 0-10 in three games from those against the Texas Rangers Aug. 13 and the Minnesota Twins Aug. 15, disappointing his fans.
He then went on a seven-game hitting streak, however, his highest of the season, from an Aug. 16 game against the Seattle Mariners to Sunday. In the seven games, he had two or more hits in five of those games.
Choo also has the capacity to get hits in successive innings. He had three or more hits in 11 games, including yesterday's. He had four hits in games against the Tampa Bay Devil Rays May 4, the Oakland A's July 4, and the Los Angeles Angels July 28.
The Angels and A's have helped Choo increase his batting average. He has hit .545 against Los Angeles (12-22) and .500 against Oakland (6-12) this season.
Texas has given him the most trouble, with Choo hitting just .125 (2-16) against the Rangers.
uni@donga.com