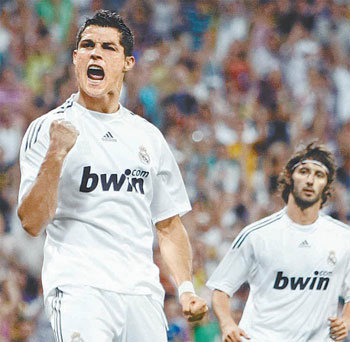 Cristiano Ronaldo yesterday scored his first goal for his new team, Real Madrid of Spain, in the 2009 Peace Cup Andalucia.
In Real's second qualifying match of Group B at Santiago Bernabeu Stadium, the home field of Real, Ronaldo cleared away two defenders of Liga de Quito of Ecuador, Latin America's top club. He drew a penalty after being tripped by a defender in the 48th minute.
Real's home crowd stayed silent for a moment. Around 60,000 spectators watched the hand of the referee. After blowing his whistle, he granted a penalty kick. Suddenly, the stadium was full of spectators of all ages standing up and shouting "Ronaldo."
Ronaldo stared at the ball and breathed deep. He then kicked the ball through for his first goal in a Real jersey.
Two days ago, he played his first competitive game for Real but failed to score. He made up for it yesterday, however, in the 4-2 win.
Eight minutes into the second half, Ronaldo set up teammate Esteban Granero to score. Ronaldo's low shot parried by the Liga goalkeeper was picked up by Granero, who shot it in.
Madrid will play in the Peace Cup semifinals Juventus of Italy's Serie A, which beat Seongnam Ilhwa of Korea, 3-0, in Group A.
Founded in 1902, Real has won a record 31 Spain Primera Liga titles and nine Champions League crowns. Juventus is a 27-time Serie A champion.
The semifinal between the two teams is set for Saturday in Sevilla.
niceshin@donga.com