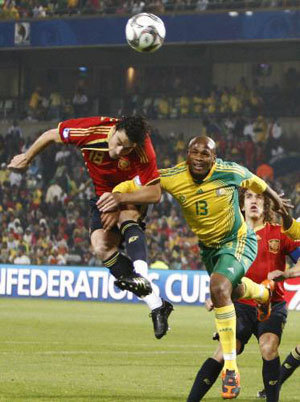 The top-ranked soccer power in the world, Spain, has won 15 straight international matches and has a 35-game unbeaten streak (32 wins and three draws) since November 2006.
In June last year, Spain edged defeated Germany, 1-0, to claim the European Championship. Against host South Africa Sunday in the Confederation Cup, the Spaniards prevailed, 2-0, in the final match of Group A.
The Spanish Armada in 1588 met its match against the English navy, but the new "invincible fleet" of the Spanish team has just set sail. Armed with fancy footwork and speedy passing, Spain has remained atop the FIFA rankings since July last year.
What makes the Spanish team so competitive is its strong midfield. Andres Iniesta, Xavi Hernandez and Cesc Fabregas are considered to exhibit textbook examples of midfield play. They have a passing accuracy of 90 percent and the team's quick passing and stellar individual skills can render any opponent dull and powerless.
KBS soccer commentator Han Joon-hee said, "In modern soccer, the midfield decides whether a team wins or loses," adding, "Creative and devoted midfielders are Spain's biggest asset."
The Spaniards also boast the world's best offense and defense as well. Strikers Fernando Torres and David Villa have helped the team score three goals in each in the team's three qualifiers at the Confederation Cup. Villa has also scored a cool 31 goals in 47 A matches.
The team's strong defense has yet to give up a goal in the tournament.
Spain also boasts strong teamwork among players in their mid 20s, or the "golden generation" who have played together since they were youngsters. Spain will play the U.S. in the Confederation Cup semifinal Wednesday in Mangaung/Bloemfontein. The winner will play the survivor of the Brazil-South Africa semifinal in the final Sunday.
Brazil pounded World Cup champion Italy 3-0 yesterday, but will face a tougher test should it meet Spain in Sunday's final.
niceshin@donga.com